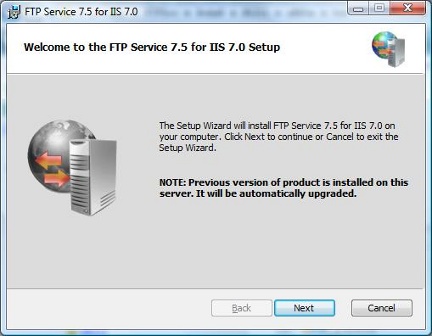 Question: How do I install FTP on IIS 7.5 in Windows?
Answer: IIS (Internet Information Service) is a set of Microsoft's Internet-based services. As a web server, it is second only to Apache HTTP Server, serving 29% of all websites. In addition to HTTP services, it also includes FTP. On Windows Server 2008, installing FTP is pretty painless. Just follow these easy steps:
1. Click Start on the taskbar and select Administrative Tools -> Server Manager
2. In the Server Manager window, click Roles to expand it and then select Web Server (IIS).
3. Now in the Web Server (IIS) pane, go to Role Services and click Add Role Services.
4. Now expand FTP Server in the Select Role Services page.
5. Choose FTP Service and click Next.
6. Finally, click Install and Close.
It is that simple. Now, you should have an FTP service running and ready to start receiving clients. In a future post, we will learn how to configure an FTP server.
Source: Learn IIS