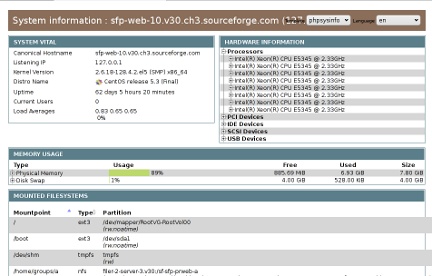 Sometimes you just need quick information about your server without having to click through numerous control panel screens or logging via SSH. A small PHP software application, called phpSysInfo, allows you to do just that. Installed like a normal PHP script, you can access a plethora of information about your server, including:
Hostname, Listening IP, Kernel version, Distribution name, Uptime, Current number of users, Load averages, Processors, Devices, Memory, Filesystems, Network usage, and Information about running processes. All of this is presented in a user-friendly graphical format that has a changeable theme.
phpSysInfo is available for Linux, BSD, Winows, OS X, and all UNIX-like operating systems. It is completely web-based and is free software, releated under the GNU GPL. You can download it from sourceforge.net free of charge.