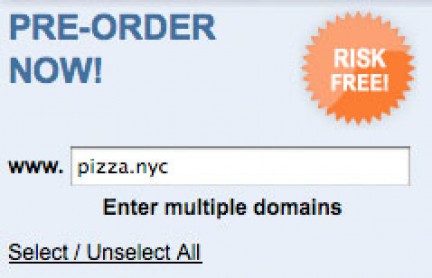 Registrars Pool.com and Quintaris made news today with their new joint preorder program for gTLDs under the auspice of ICANN's new policy, which allows the creation of additional domain extensions by businesses and organizations
The names are being registered at a rate of 10,000 per day. The extensions available include .nyc, .berlin, .xxx, .blog, .news, .radio, .dallas, .sucks, .futbol, .family, .arab, .health, .golf, .resort, and .quebec.
Only a name and email address is required to reserve a domain. The preorder site is available here. No fees have to be paid until the domain is approved and registered.

The new TLDs are expected to be available in 2010, but keep in mind that ICANN isn't even accepting gTLD applications from registrars yet.
I for one am skeptical about this. What if the the two registrar's joint applications for the names are not approved? What if another registrar gets an application in first?
Finally, there is no guarantee that by preordering a name, you are entitled to it. Just by registering an account with my name and email address (which I didn't have to confirm), I was able to preorder a number of domains. I reserved pizza.nyc, computer.news, and computer.blog, among others. Do I expect to get them? Fat chance.
Pool.com and Quintaris aren't dumb. They're using the preorder process as a way to gauge demand and avoid risk. If a gTLD doesn't receive enough orders, they'll just can it.
Finally, the reservations are not legally binding and the registration fee hasn't even been announced. This has been done on purpose. Quintaris-Pool will probably register the preordered names themselves and demand an exorbitant for them.
My guess is the joint companies will end up holding auctions for each name, at least ones with more than one preorder. You see, after reserving computer.blog, I created a second account to see if I was given exclusive access to reserve it. Unsurprisingly, the site let my second account preorder the name as well. This means that multiple users can preorder the same name.
Pool-Quintaris is misleading customers about the preorder process. One would assume only one person could reserve a given name, but apparently there is no exclusive access to any name. There will be a lot of shock when domainers find they have to pay a huge price for the valuable preorder they thought they had exclusive access to. Trust me on this: you're not going to get a domain worth £10,000 for £10. This poor business practice is just one reason why ICANN's gTLD program is bound to fail.