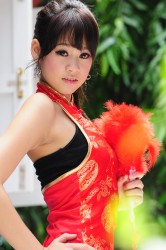 In an effort to put a stop to online pornography, the Chinese government has shut down 775 pornographic domains in the last three days. This swift action is the result of the country's new domain name complaint center, where concerned citizens can rat out adult websites.
The center is operated by the China Internet Network Information Center (CNNIC) and is staffed 24/7. The CNNIC has also introduced a new requirement for .cn domain registration. As of December 14, all newly registered domains must be accompanied by a written application. New registrations will not become active until the application is approved by the government.
While China sees the need to rid itself of adult websites, will it really stop people from viewing this sort of content? After all, it can only control the web within its borders. With a simple proxy, anyone can get around the country's content filter and view objectionable content from any other part of the world.
Source | People's Daily Online