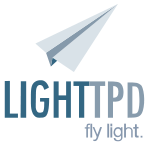 For some web sites with heavy, often spiking traffic, sometimes the standard web servers like Apache or Microsoft's IIS simply do not suffice. When you need a web server that will be fast and secure and still produce a light CPU load, you might consider Lighttpd.
Lighttpd is a free and open source web server that runs on Linux, other Unix-like operating systems, and on Windows (under Cygwin). It supports most of the standard web server features such as modules, SSL and TLS, server side includes, virtual hosting, and conditional rewrites. Nevertheless, the entire package is less than 1 MB and has a single process design (whereas many http servers start new processes with each connection).
It is designed to sustain large numbers of parallel connections, something important for high performance AJAX applications, according to the company's web site.Many large high-traffic web sites run Lightthpd, such as meebo, Wikipedia, and YouTube. High traffic bittorrent sites, such as Mininova, also run the small web server, recording more than 1,000 hits per second. Lighttpd is available for free download at the project's website.