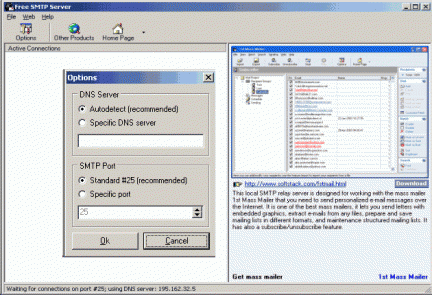 An SMTP (Simple Mail Transfer Protocol) server is primarily used for sending email messages between servers. Most email systems use SMTP servers. But are there free servers for this task?
Free SMTP Server is a Windows program that satisfies that need, and it is very easy to use. Furthermore, it is particularly useful for laptop users who travel frequently and connect to Internet service providers from various countries. Using your own SMTP server gives you much more security.
Richard Stallman, founder of GNU (component of GNU/Linux) and the Free Software Foundation explained that the only way to be certain of the privacy and security of your email accounts is to host them yourself. This is probably not practical for the average person, but for a few individuals and certainly companies with security concerns, this is a real option. Free SMTP works with Outlook Express and Eudora. If you are interested, you can download directly from the project's website and give it a try for free.