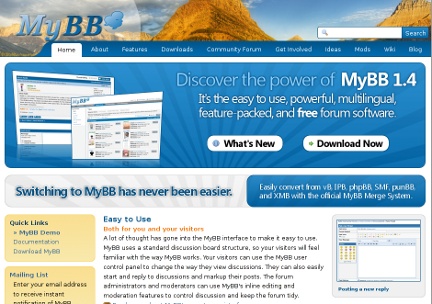 There are many issues to consider when creating your own forum website: themes, topics, moderators, administrators, categories, advertising, user permissions, and policies. One of the most important decisions you will make, however, is choosing the forum software. Discussion forum software can be proprietary/commercial or free and open source. It can be CGI-based, PHP-based, or any other number of scripting languages. It can use a database backend or a flat file backend.
In 2008, forum-software.com rated MyBB as the best open source forum software, awarding it 4 out of 5 stars. They ranked vBulletin as the best commercial forum software, giving it 5 out of 5 stars. Interestingly the site's users gave MyBB a higher rating (4/5) than vBulletin (3/5).
Find out what forum software is out there, what software features your server supports, and how much time and money they will cost you. Most importantly, make sure the one you choose is one you will want to stay with for a long time. Nothing is worse than trying to migrate users and forum posts from one application to another. Take your time and make the decision that works best for you and your users.