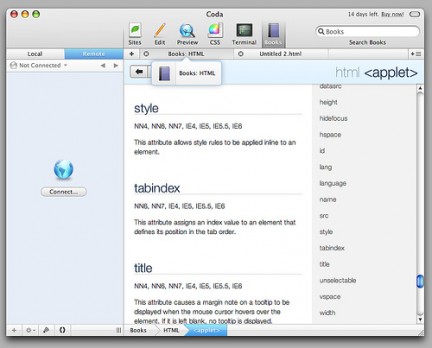 Coda is a lightweight HTML editor for the Mac that not only lets you write HTML, but can do quite a bit more. It has a built-in FTP client, preview mode, dedicated stylesheet editor, spell check, and downloadable plugins.
While Coda is undoubtedly one of the best OS X HTML editors out there, it isn't free at $99. A free trial download is available, though. The all-in-one nature of the application can save a busy web developer quite a bit of time, however.
If you can't swallow the high price of Coda, a lower-cost alternative is Espresso. For the price of free, one can do basic editing with Smultron.
Sadly, there is no free replacement for Coda. But hey, who said professional web development is cheap?
Photo | Flickr