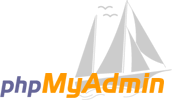 Question: I have a shared hosting account and need an easy way to manage my databases. What can I use?
Answer: Chances are, if you are using a server that has both PHP and MySQL, your web hosting provider has given you some type of tool to manage your databases. Most providers these days will not give you SSH access without jumping through hoops. Therefore, the only other practical way to manage MySQL is to use third-party software.
Check to see if your host offers phpMyAdmin. It should be accessible through your hosting control panel. With phpMyAdmin, you can import, export, create, and delete databases. You can set permissions, create users, and even run more advanced SQL queries. As the name implies, phpMy
Admin is written in PHP, making it very versatile and easy to install, and it is free software released under the GNU General Public License.