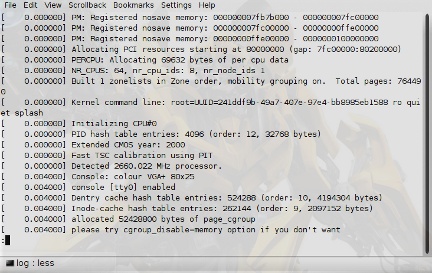 Question: Where do I view logs on my dedicated server?
Answer: Most of the logs on a Linux operating system are kept in the /var/log directory. There you will find logs for the main system, kernel, network, hardware, Apache, MySQL, and often times other third-party applications that you might happen to install.
There are several ways to view the logs. For example, if you want to view the "messages" log:
tail -f /var/log/messages
This will show you the last few lines of the log (i.e. the latest information).

less /var/log/messages
will give you a scrollable view of the log, controlled with the arrow keyes.

more -f /var/log/messages
will give you a paged view. Pressing enter or the space bar will show more of the text, which is all loaded at once.