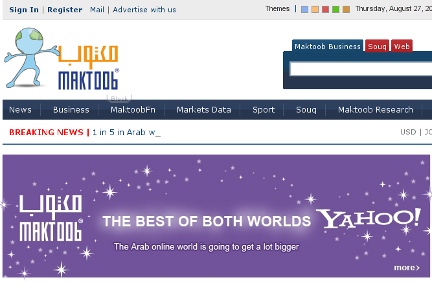 In an effort to reach a wider audience in Arabic-speaking countries, Yahoo announced that they intend to acquire Maktoob.com (the domain and the website), which is one of the largest Arabic online portals. Interestingly enough, it also has English support, which it automatically detected when I visited the site. Undoubtedly this reflects that the opposite is true. Arab countries want to reach a wider English-speaking audience.
Yahoo already has 44 million Middle Eastern and North African users, so this move will seek to customize their Yahoo experience rather than draw them in for the first time. Maktoob's offerings includ Souq.com, an Arabic auction and online ecommerce service, cashU.com, an Internet payment solution, and Maktoob-Research, which does just what the name says.
Another indication of its obvious attempts at western mainstreaming is the fact that it uses .com top-level domains rather than those of a particular Arab country. What is not clear is how much of Maktoob will remain after it has been "Yahooed". In the past, services like Flickr have remained relatively the same after Yahoo purchases. Will an Arab site receive the same respect? Yahoo answered questions about censorship rather easily. They will respect the "law of the land".
Source: NY Times