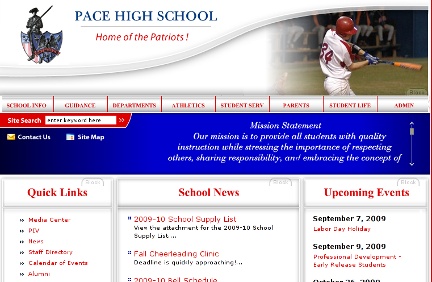 In recent news, two school teachers at Pace High School in Florida, USA are under investigation for publicly promoting their religion. The news has caused an upsurge in searches for the school's website and sites related to the controversy. The school's website can be found at the domain: pacehighschool.net. If someone types in pacehighschool.com, however, he will be met with quite a surprise.
The latter domain points to a pornographic website, and their Whois information is hidden. The only indication of who might own the domain is that they registered it with a Canadian registrar. Parents and others looking for the school's actual website have complained, but officials of the Santa Rosa school district and even the Santa Rosa County Sheriff claim there is nothing they can do.
Under the UDRP established by ICANN, individuals and organizations have the right to contest domains that are confusingly similar to their trademarks. But it is unlikely that the school district registers trademarks of the names of their schools. Nevertheless, they could still file a complaint against the owners of pacehighschool.com. It would seem at this point, the school district has nothing to lose by trying and much to lose by doing nothing.
Source: Santa Rosa Press Gazette