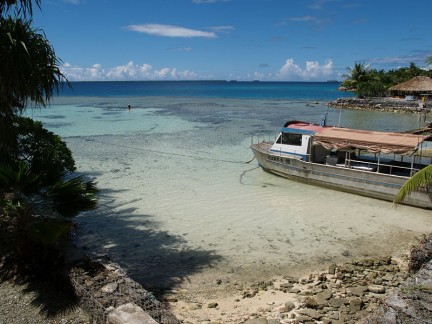 Today, the Dot TK registry announced the registration of the 15 millionth .tk domain.
Dot-TK is the ccTLD for Tokelau, a New Zealand territory located far out in the Pacific. With only 1400 inhabitants and a GDP of $1.5 million, the group of three atolls partnered with BV Dot TK and Teletok several years ago to offer .tk domains to the world.
These domains are free, but do not provide the same functionality as a typical domain. Instead, .tk domains use a simple redirect script to point to another address. Users are not allowed to specify their own DNS servers. They are popular with webmasters on free hosting and also for renaming long URLs, but provide no FTP access, for example.

Registrations have skyrocketed recently with people using the names for Facebook pages and Twitter. In the last few weeks, registrations have gone up by nearly 40%, causing system outages.
"We have seen an enormous growth in the last couple of weeks, and we expect to continue to grow further," declared Joost Zuurbier, Dot TK CEO, "In the last couple of weeks we have expanded our technical infrastructure and we are now ready for even bigger growth in the future."
In the past, Dot TK placed advertisements on the sites of domain users in order to turn a profit. Since then, it has stopped doing this, but in order to prevent overuse, requires that each domain receive at least 25 hits every 90 days to remain active.
Because the free .tk domains only redirect traffic to another address and cannot be used with third party DNS servers, they are terrible for SEO. If you want to specify your own name servers and host a site using one of these domains, they can be purchased starting at £13.14 ($19.90 USD) for two years.
While Dot TK names might be free, they are not recommended for use with anything other than small personal websites. No webmaster takes a site hosted on a .tk name seriously. If you are earnest about running a successful website, then the £6 or so it costs to register a real domain shouldn't be a big deal.
In 2007, Dot TK came under fire because of the high number of "dangerous" websites hosted with the domains, including phishing scams and viruses. In a study, McAfee found that 10.1% of .tk websites contain some sort of "unwanted behavior." This number was 4.1% for all websites.
Tokelau isn't the only place to offer its TLD globally. Niue, another island state also associated with New Zealand, began offering .nu domains for free in 1997. Its domains also lack the functionality of a traditional domain and have become associated with the same stigma as .tk.