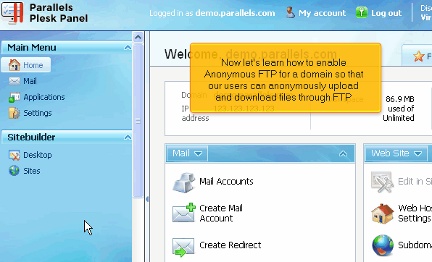 DemoWolf is a web hosting tutorial provider that offers a wide range of tutorials on all types of hosting services and software. Their tutorials include: control panels (such as Cpanel and H-Sphere), PayPapl, PuTTY, Photoshop, DNS, FTP, phpMyAdmin, Drupal, Joomla, and many others. The tutorials are flash-based, offering both text-based and voice narration.
The tutorials were all for end users and resellers, giving them guidance on their hosting accounts, but now, DemoWolf announced at HostingCon that they are adding Server Level tutorials for people setting up dedicated servers.
"We are excited to finally bring Server Level demos to market", says Rob Moore, President and Founder of DemoWolf. "More and more customers have been asking us for these and we felt it finally reached a point where it made sense from a demand point of view to develop them. This opens a whole new area for tutorial development… expect future releases to include setting up Parallels servers, and root-level help with specific operating systems."
The company also added new Joomla Voice demos, including setup, admin, extensions, and end-user tutorials. They offer 3,600 tutorials for web hosting companies, 1,500 of which are voice tutorials. Their language availability includes English, French, Spanish, Dutch, Greek, Brazilian-Portuguese, Czech, and Bahasia-Indonesian.
Source: HostSearch