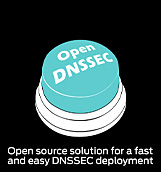 In an effort to speed up adoption of DNSSEC, a group of interested Internet engineers has created the OpenDNSSEC project with the intention of creating an open source version of Domain Name System Security Extensions (DNSSEC). The project leaders hope that this will make it easier for organizations to adopt DNSSEC, relying on a commercial friendly license and Unix-like operating system support.
The project is a collaborative effort of .SE (The Internet Infrastructure Foundation), NLNetLabs, Nominet, Kirei, SURFnet, SIDN, and John Dickinson. A preview is available for download from OpenDNSSEC.org. Web hosting providers will be able to easily deploy DNSSEC using open source software, when the project is completed.
In recent months, PIR, the organization responsible for .ORG top-level-domains (TLD) announced their plans to adopt DNSSEC. Prior to that the U.S. government rolled out their own DNS security upgrades to all of their .GOV TLDs. OpenDNSSEC is being released under a version of the BSD license.
Source: Business Wire