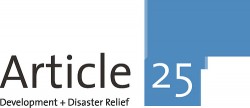 Citing the rampant abuse of the .org TLD, London charity Article 25 is putting together a consortium of like-minded organisations to create a new extension, .ngo.
Victoria Harris, Chief Executive of Article 25, talked about the problems of .org:
Lack of regulation has meant that commercial entities, individuals and even professional criminals have been able to register websites with .org suffixes quite legally, with no check on their identities or intentions.
The consortium will submit an application to ICANN next year for rights to the extension. If approved, only genuine charitable organisations would be allowed to register a .ngo name.
When it was created in 1985, .org was meant for non-profit entities. Since then, it seems to have forgotten its original intended purpose. Anyone- individuals and companies included- can register a .org domain. As a result, only a very small minority of the TLD's registrations are owned not-for-profits. Many charitable organisations also register.coms.
Via | Third Sector