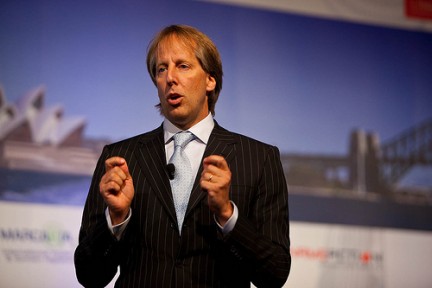 New ICANN CEO Rod Beckstrom has been in his post for more than three weeks now, but just released his first public address yesterday. In the message, Paul Twomey's replacement talks about how excited he is to be working at ICANN and details his plans for the future.
While it's great to see that the new CEO is alive and kickin' (I thought he was living under a rock), the message doesn't reveal anything new about ICANN. Rather, it's the same old pitter-patter I've come to expect from Marina Del Rey, the organization's home city.
First, Beckstrom addressed the new IDN system, stating that this effort would be the to-do at his new workplace.

The first step is to support the implementation of Internationalized Domain Names (IDNs) so that businessmen in Russia or India, as just two examples, can use their native languages and language scripts to write their domain names, and can access written information and other content in the same way. Perhaps it is appropriate that this very significant change in the Internet marks its roughly 40th anniversary. That same forty years ago, man's first footsteps on the moon enlightened mankind's view of his place in the universe. In the same way, IDNs will guarantee that all mankind can have a place on the Internet in their native script.
It took 40 years to realize languages like Russian, Mandarin, and Urdu exist? Beckstrom is trying to mask a failure as an accomplishment.
The CEO went on to discuss DNSSEC, a more secure domain system currently in testing that is supposed to help make Internet users safer by preventing phishing and other domain exploits.
As for new gTLDs, Beckstrom talked about how the web has "historically thrived whenever the system is opened up further to allow users to express their creativity and innovation." He talked about how the Zulu tribe of South Africa plans to register its own extension, and briefly touched upon the .nyc and .berlin domains.
Finally, the former Cyber Security Chief talked about concerns over ICANN "innovations" like the new domain system, saying that ICANN "look[s] forward to working through these and other issues with the community."
It's nice of Beckstrom to address the public, but shouldn't this message have come three weeks earlier? I've discussed problems with transparency and accountability at ICANN before. The CEO's words are far from heart-warming. Masking shortfalls as great technological advantages, he really didn't say much of anything. Beckstrom completely glanced over important issues such as ICANN governance and only indirectly discussed cybersquatting. I think the web-surfing public deserves a more substantial statement.
Here is a link to the full address on ICANN's website.
Photo | Flickr