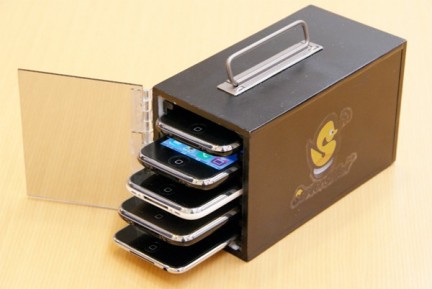 In June, a free piece of software called ServersMan launched that lets any iPhone or iPod Touch be used as a web server. Its maker, a Japanese company by the name of FreeBit, wants to go even further, unveiling a prototype today for an iPhone server rack.
The rack holds 5 of any generation iPod Touch or iPhone. Truth be told, it looks more like a lunchbox than a server rack. A handle is included for easy travel, but you could also buy a bunch of these and create a iPhone data center.
Server providers need not worry, however. The FreeBit prototype is just that, a prototype. There are no plans to produce the product, and besides, it would take dozens of iPhones to obtain the same power provided by a server. But the concept is really neat.