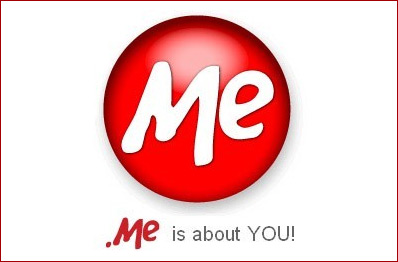 The Dot-me registry will be holding an auction May 14-21 online. Today, it issued a press release reminding domainers that the deadline to register is May 11. A good many domains will be up for sale. Some appear to be quite valuable, while others, or should I say nearly all, are flat-out worthless.
The suffix .me is actually the country code for Montenegro, assigned after the country broke off from Serbia in 2006. Since then, Montenegro has decided to market the extension to a world market. General registration for the domain first began on July 16, 2008.
There are some good legitimate uses for .me. If I wanted to start a personal blog and Daniel.com wasn't available, Daniel.me would be a good alternative. The problem is, the .me registry has designated personal names and other popular words as "premium" domains and is selling them at auction. More than 100 first names will be up for grabs on May 14. Other registries have used similar tactics in the past to profit from desirable domains, but some of the names considered "premium" by Dot-me are far from it.

Here is a full list of domains for sale at the upcoming May auction. There are some names that have a lot of potential. Dot-me is great in that it can make for some rather clever domain names, such as thinner.me and smarter.me (both will be at the auction). Love.me would be great for a dating website, as would Ask.me for a question-and-answer site.
Once you get past the cute "verb.me" names, things go downhill fast. One part of the auction being pushed heavily by Dot-me is the sale of 30 geo domains. A few of the names are Italia.me, Arizona.me, Fiji.me, and Iceland.me. While single-keyword domains can be very valuable, these aren't. Arizona.com is very valuable, as is Arizona.net. But Arizona.me makes no sense whatsoever. The extension doesn't fit the subject matter. Someone looking to start a site about visiting Iceland or the history of the island isn't going to be looking for a .me domain.
Even worse, Dot-me will be selling trademarked names. AMD.me, Wikipedia.me, NYtimes.me, and BBC.me are just a few examples of the type of names hitting the auction block in eight days. Anyone with experience in domaining knows registering a trademarked name puts you on the fast track to a lawsuit. And just like the geo domains, these trademarked company names don't fit the .me extension. What is Montenegro thinking?
The train doesn't stop there. The registry will also be auctioning a long list of other ridiculous names. For some reason, it thinks names like zuig.me, read2.me, poker777.me, and pflau.me are all valuable. Who was in the room when these decisions were made? None of them are even worth the £24.99 two-year registration price.
I expect a few of the more clever names like Thinner.me and the 100 first name domains to sell for a decent amount. There are some genuine uses for the .me domain. As for all the others, who cares? Sorry Montenegro, but pflau.me isn't the next Business.com.