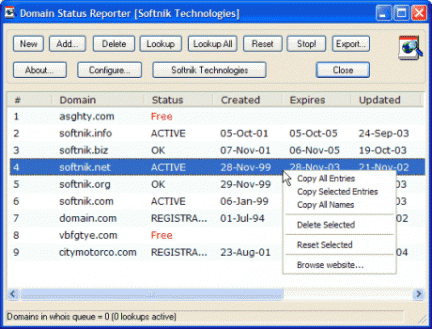 If you are a domainer, it can often be hard to keep track of what's going on. It's easy to forget to renew a name and there may be domains owned by others you wish to keep on eye on.
Domain Status Reporter is a free tool that lets you do just that. It will keep tabs on any .com, .net, .org, .edu, .info, or .biz name. The simple interface will tell you the current status of the domain (active, expired, etc.), registration and expiration dates, and more.
I usually just use a site like Whois.sc to look up domains, but if you buy domains often or have a large portfolio a tool like this worth looking into (there are many other programs that do the same thing). Unfortunately, there is no .co.uk support, but there are other domain managers out there that do. A Mac version with more features is also available.