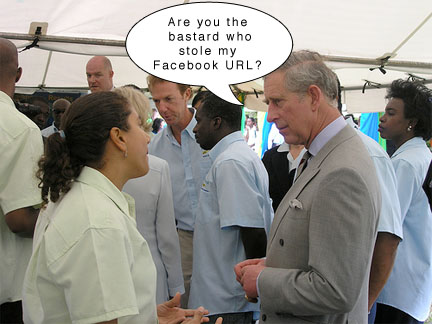 It's only been three days since Facebook launched its new vanity URL system, an event that many intellectual property experts claimed would result in a flurry of cybersquatting. Well, they were right.
Since the service's launch three days ago, hundreds of celebrities, companies, and even royalty have had vanity URLs created by others without their consent.
Charlie Nordholm, a conniving lad from Hawaii, took it upon himself to register facebook.com/princecharles/. While he may have Prince Charles's username, he won't be seeing the likes of Buckingham Palace any time soon.
Facebook is already starting to take action. A West Midlands woman by the name of Jordan Bromley registered www.facebook.com/peachesgeldof/ on Friday, but now her Facebook is unavailable.
I think the vast majority of these username registrations are not cases of cybersquatting, but people just doing it as a joke or for attention. The vanity URLs are non-transferable and Facebook is able to take them away without warning.
Source: Ireland Online
Photo: Flickr