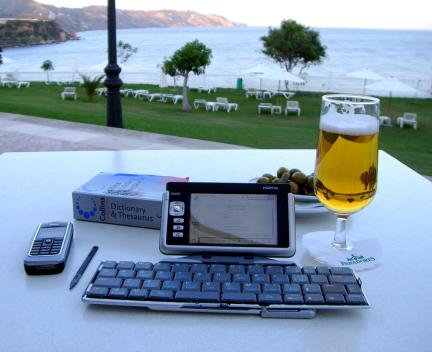 Last week the New York Times ran a feature about several bloggers who had abandoned their blogs. They quoted statistics from Technorati stating that 95 percent of blogs are abandoned, the ruins of the lost World Wide Web. They cite many reasons. Some people thought they would become financially independent. Others thought they would become famous and suddenly have an audience without a major publishing deal. Still others simply no longer had the time to blog.
The question the article does not answer is: why do some people keep blogging? According to Technorati, there are 7 million to 10 million active blogs at any one time, but only 50,000 to 100,000 generate the most page views. Nevertheless, those people who have not become famous or rich continue to blog and probably get visits and comments from people they know with an occasional stranger here and there.
The truth is that some of us blog because we love to write. Blogging is a quick and easy way to get something off your chest. People may read it, or they may not. Writers write because they love it. Moreover, many bloggers who quit undoubtedly thought that the would be the center of attention, but as with most social media (Twitter and Facebook included), it is a participatory culture.

If you want people to comment on your blog, you should comment on theirs. If you want Twitter replies, you should reply to other people. In the end you may only develop a small niche community of friends or thousands of loyal fans. Regardless of the number, people will expect you to interact with them, or they will go elsewhere.
Photo Source: Flickr