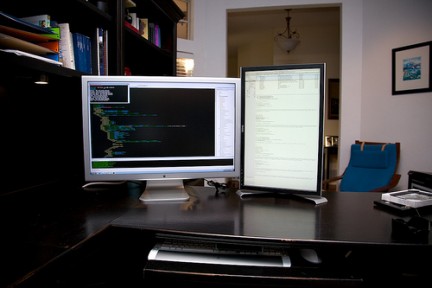 Monitors seem to get bigger and bigger every year. Whereas 17-inches used to be a normal screen size, now monitors as large as 24-inches are the norm. While having a big monitor makes getting work done easier, you can get an even bigger productivity boost from installing a second monitor on your computer.
If you register domains on a regular basis or build a lot of websites, you probably have multiple programs open all the time. Domainers work with a lot of data and often have to scramble to make a registration before someone else. Having two monitors allows you to see more data at once, increasing your efficiency. The same is true for web designers, but they also get the benefit for having an HTML editor in one window and the under-construction site in the other.
The best part about having dual monitors is the cost. Who says you have to go buy an expensive monitor? Repurpose a display from an old computer or buy a low-end model on sale at a local store. The amount of productivity you gain will pay for itself ten times over. As for me, I'm looking into adding a third monitor to my computer setup.
Photo | Flickr