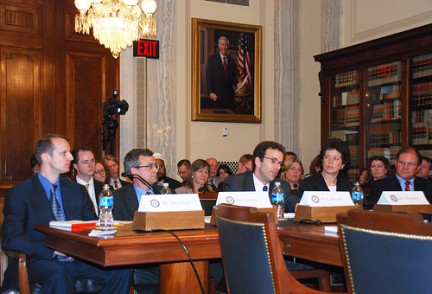 ICANN CEO Paul Twomey went to Congress today for a scheduled hearing on its performance and future relationship with the U.S. government.
The non-profit organization received a battering of criticism from congressmen on a number of issues.
Republican Cliff Stearns of Florida attacked ICANN for its $7 million surplus. He questioned how a non-profit could have a surplus, but also had a few other choice words for Twomey:
You should take that $7 million and make sure that cyber-squatters are gone. I think your job should be not just developing a surplus but actually implementing — making it cheaper for consumers — and actually doing your mission.
Indeed, the issue of cybersquatting was a major contention with lawmakers. Verizon had complained prior to the meeting that cybersquatting is a rampant problem ICANN is doing little to address, and Democrat Rick Boucher of Virginia asked many questions about this. He wanted to know why cybersquatting is being permitted to persist and what the organization is doing to fix the problem.
One domain registrar attacked ICANN's accountability and transparency:
ICANN holds three open board meetings a year, the rest of their board meetings are done in private. We make requests for information. We basically get stonewalled.
Twomey defended ICANN, stating that he has taken a number of steps to ensure greater transparency and accountability within the organization. He plans on stepping down by the end on the year.
Sources: Internet News and Domain Name Wire