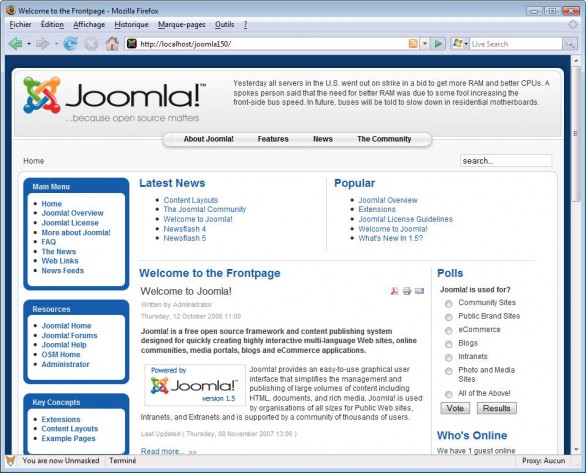 Joomla is a very powerful free and open source content management system (CMS), and its upcoming release, version 1.6, is expected to continue its tradition of stable and efficient website management. There are, however, certain settings in Joomla that are not so obvious, and a webmaster that has not learned how to fix those little nuances can usually be identified by the appearance of his website.
One such annoyance is the "Welcome to the Frontpage" message that appears in the blog section of the front page of a new Joomla website. Even after adding your own custom content and tweaking your template, you might still find that awful message staring back at you. Fear not! There is a way to remove it, and it does not even involve any magic hacking. Just follow these steps:
1. Login to your Joomla installation as administrator (http://yourdomain.me/administrator)
2. Click "Menus" and then click the name of the menu you are using.
3. Find the default page, designated with a yellow star in the "Default" column.
4. Click the name of the page.
5. On the right side, click Parameters (System)
6. Next to "Page Title" you will see the dreaded welcome message. You can can change it, delete it, and/or click "No" next to "Show Page Title" to remove that title section completely.
7. Click "Save", and you are all finished.
Photo Source: Flickr