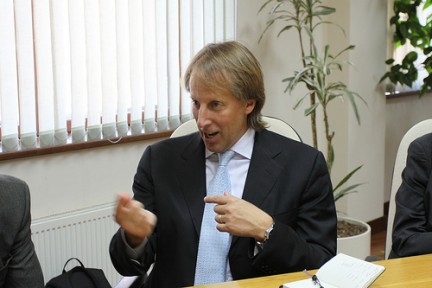 Tens of thousands cheered last week at the Russian Internet Governance Forum in Moscow, where Rod Beckstrom gave a keynote speech entitled, "The future of ICANN: Toward a Global Internet." The ICANN CEO is poised to join the ranks of Martin Luther King and John F. Kennedy for his amazing rhetoric.
Wait, never mind. But Rod Beckstrom did give a keynote speech. In keeping with the nature of the event, it focused on Russia's implementation of a Cyrillic IDN. He emphasized how it has increased the rate of Internet adoption in Russia.
Beckstrom also made an astounding revelation:
The numbers are staggering: five of the top ten languages in use on the Internet today rely on a non-Latin script: Chinese, Japanese, Arabic, Russian and Korean,in roughly descending order. That represents 647 million users. And another 310 million fall into the broad category of other languages. For the first time,these people will be able to write Internet addresses completely in their own script. IDNs are the greatest advance in the use of names on the Internet since its inception 40 years ago .
Thanks for the heads up. Actually, if it weren't for ICANN these countries could have had access to IDNs more than a decade ago. You can read the full speech here.
Photo | Flickr