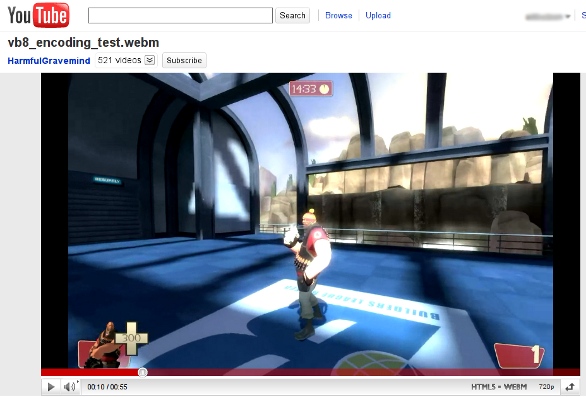 As I predicted and many observers had hoped, Google has released their newly acquired VP8 video codec into the open source wild. To be quite honest, it happened sooner that I expected, and Apple H.264 developers have already chimed in to call the VP8 codec "a mess". But biased commentary aside, this morning, I downloaded the Chromium daily development release, which now has the VP8 codec installed.
When I installed it, I was not sure where I would even be able to find videos using it, but Google really does not waste any time. YouTube already has HTML5 videos encoded with VP8, and they run flawlessly. The video quality seems good and runs well in HD, without the high CPU load that usually accompanies Adobe Flash.
Yesterday, Google announced the release of their codec, along with plans to use Ogg Vorbis for audio encoding, and a new video format container based on Matroska. Collectively, this will be referred to as WebM. This could very well be the deciding factor in the HTML5 browser wars that we have been covering. Website owners and server administrators who want to give WebM a spin can find links to encoding software options on the WebM website.
Source: Webpronews.com