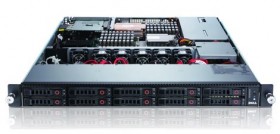 dell poweredge c1100Dell revealed a new line of "CloudEdge" servers this week designed specifically for cloud computing. Dell is hoping to sell quite a few of these systems as server demand increases and more and more firms move to the cloud.
The new models include the PowerEdge C1100, C2100 and C6100. They offer boosted memory and storage capacity was well as better power optimization. The C2100, for example, can pack up to 144 GB of RAM, 25 TB of storage, and a Six-core Intel Xeon 5600 processor.
The servers are based on previous solutions custom-built by Dell several years ago for some of its first cloud computing clients. It boasts they will run the cloud more efficiently and thus less expensively) than competing servers. Whether these claims are true remains to be seen.
Source | Data Center Knowledge