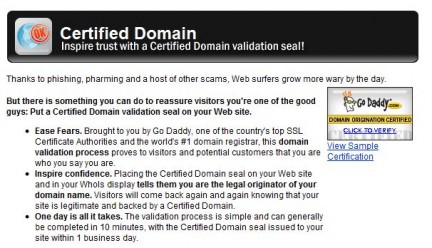 If you're looking for a way to burn $2.99, Go Daddy's new Certified Domain service is a sure way to do it. Designed for website owners looking to "ease fears" and "inspire confidence," all the service does is give you a small seal to place on your site verifying you are in fact the owner.
Go Daddy boasts that certifying a domain will "prove to customers that you're the 'real deal.'" Proving that someone owns a domain, however, does not in any way guarantee that the person is question is safe to do business with.
In issuing a Certified Domain sale, Go Daddy does not verify the integrity of the site. Anyone can get one, assuming they have $2.99 a year to spend. This service is an obvious sham and only a fool would pay for it. Stay classy, Go Daddy.