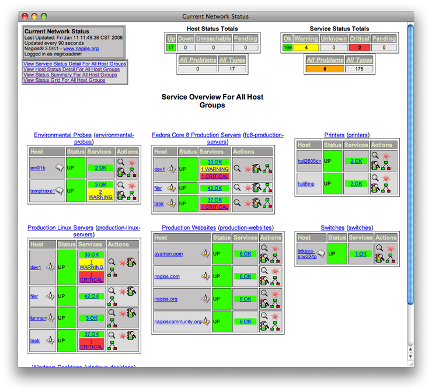 Nothing can be worse than getting a call from an irate client, screaming at you because their web site won't load. You scramble out of bed, tripping over the cat, and log onto your computer. It only takes you a few minutes to realize that the whole server is down. None of your 20, 50, 100, or even 200 clients on that server can reach their websites. For that moment, your world stops.
There are many good software programs and services available that could remedy this problem. One such solution is called Nagios, a free and open source network monitoring solution. Nagios monitors Windows and Linux/Unix servers, routers, switches, firewalls, printers, services, and applications. You can set it to notify you via email, pager, or mobile phone, and it has escalation capabilities if you would like to have different support personnel notified depending on the severity.
Nagios is available for download from their website. With it, you will be able to rest a little easier knowing that you will at least know when something is wrong before you get that dreaded phone call or support ticket. Nagios was the winner of the InfoWorld Best Open Source Software award of 2008 and the Linux Journal Reader's Choice award of 2009. A list of other network management and monitoring software is available at Wikipedia.