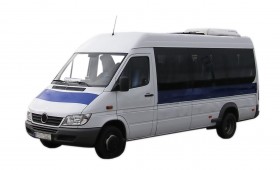 Domain Guagua.com sold at auction yesterday for $100,000 USD. While not nearly as much as the $800,000 guns.com fetched, I don't think I would pass up the chance to earn six figures from a domain.
"Guagua" is a Spanish nickname for a type of small bus common in urban areas. Often called dollar or commuter vans, these vehicles are privately owned and provide transportation in areas not well-served by public transit.
Other sales of note include pepe.com for €45,000 and gastronomie.com for €35,000. The ccTLDs risultati.it (results) and energieagentur.de (energy agency) each sold for €32,000 and €21,500 respectively. It's been an active week for the domain market indeed.