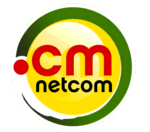 The Cameroon-based domain registry in charge of the Country Code Top Level Domains (ccTLD) for the Republic of Cameroon has announced that the .cm TLD will be available this summer. NETCOM.cm Sarl is based in Yaounde, Cameroon and provides services to countries in central Africa, including domain name registrations and WiMAX in remote areas.
According to Moustapha Saya Kaigama, president of NETCOM.cm Sarl, the company will announce the details of the new TLD at the T.R.A.F.F.I.C. symposium in Amderdam, June 1-4. The company believes that its proximity to .CN and .COM will make it a popular TLD domain even outside of Africa, having an impact on trademark brand protection claims.
Last year, the company launched their registry service for .com.cm, .co.cm, and .net.cm. NETCOM provides a list of accredited registrars on their website who are authorized to provide registration cervices for .com.cm, .net.cm, and .co.cm domains.
Source: PR.com