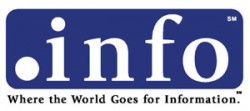 Afilias, the operator of the .info gTLD, is seeking permission from ICANN to allow the registration of one and two character .info domains. The names are currently reserved for administrative purposes.
The .biz registry auctioned off its one and two character names several months ago with ICANN's blessing, so Afilias's request is likely to be approved.
How much will the domains fetch? Probably quite a bit. It is still unclear if Afilias will auction the short names or let anyone register them, but my guess is it will want to auction them. Why would the company accept the standard registration fee for such valuable names, after all?