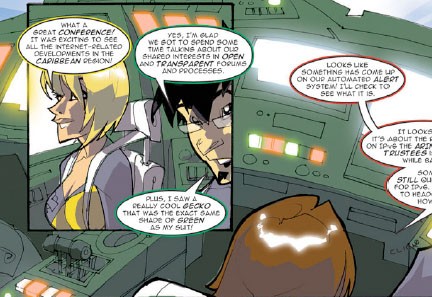 For years, the American Registry for Internet Numbers (ARIN) has been pushing for a switch to IPv6, stressing that the IPv4 system still used by most providers will run out of addresses very soon.
In an effort to promote the switch, the non-profit has created Team ARIN:
Team ARIN is a group of superheroes that represent four of the principles by which the Internet is operated and governed: Accessibility, Responsibility, Information, and Neutrality. ARIN and its community strive to work under these principles. Technical information describing how Regional Internet Registries allocate Internet number resources like IPv4 and IPv6 addresses is freely available on websites across the Internet. We hope that by presenting this information in a fun and informal way, we will give you a new perspective on both important technical facts and the principles under which ARIN operates.
So far, three issues have been released. The latest, entitled "FUD 2.0 – Return of the FUD Factor!", chronicles Team ARIN's defeat of the evil Agent FUD, who tries to stop the switch to IPv6.
The comics were featured recently at Interop Las Vegas. Internet News had the opportunity to sit down and talk to Megan Kruse of ARIN about them.